Unbeatable Betty: Betty Robinson, the First Female Olympic Track & Field Gold Medalist (Hardcover)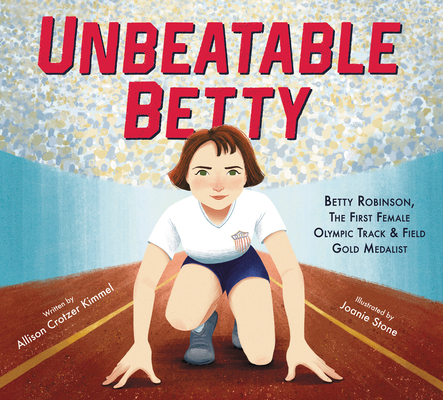 List Price: $17.99
Our Price: $15.29
(Save: $2.70 15%)
Usually Ships in 1-5 Days
Description
---
An inspiring picture book biography of the first woman to win a gold medal in track and field. Young readers intrigued by the Summer 2021 Olympics in Tokyo will be inspired by this story. This nonfiction picture book is an excellent choice to share during homeschooling, in particular for children ages 4 to 6. It's a fun way to learn to read and as a supplement for activity books for children.
"This powerful volume provides a specific but inspiring tale of athletics, feminism, resilience, and teamwork. This vivid portrait is sure to encourage young readers and listeners to pursue their dreams." —Kirkus
With Joanie Stone's colorful illustrations and Allison Crotzer Kimmel's inspirational text, this biography is a reminder of how it takes more than sheer talent to be a champion; an unbeatable spirit of determination and hard work is also needed.

At only sixteen years old, Betty Robinson became the first female gold medalist in track and field in the 1928 Olympics and an overnight sensation. She was set for gold again and had her eyes on the 1932 Olympics.
Her plans changed forever when a horrible plane crash left her in a wheelchair, with one leg shorter than the other. But Betty didn't let that stop her. In less than five years, she relearned how to stand, to walk, and finally to run again and try to taste gold once more in the 1936 Olympics in Berlin.
Perfect for Women's History units, as well as for reports on lesser-known sports heroes, Unbeatable Betty includes an author's note narrating Betty's later life after her win, as well as a bibliography.
"The text flows well as it tells this heartening story of grit, determination, and lasting achievement. Using color and texture well, the nicely composed digital illustrations convey a sense of athletic grace that enhances the inspiring story." —Booklist
"A great choice for women's history lesson plans, gym teachers, or to teach the character trait of determination. Pair with Kathleen Krull's Wilma Unlimited or Pat Zietlow Miller's The Quickest Kid in Clarksville for a dashing good time." —School Library Journal
Praise For…
---
"This powerful volume provides a specific but inspiring tale of athletics, feminism, resilience, and teamwork. This vivid portrait is sure to encourage young readers and listeners to pursue their dreams." — Kirkus Reviews
"The text flows well as it tells this heartening story of grit, determination, and lasting achievement. Using color and texture well, the nicely composed digital illustrations convey a sense of athletic grace that enhances the inspiring story." — Booklist
"A great choice for women's history lesson plans, gym teachers, or to teach the character trait of determination. Pair with Kathleen Krull's Wilma Unlimited or Pat Zietlow Miller's The Quickest Kid in Clarksville for a dashing good time." — School Library Journal