Do It Scared: Finding the Courage to Face Your Fears, Overcome Adversity, and Create a Life You Love (Hardcover)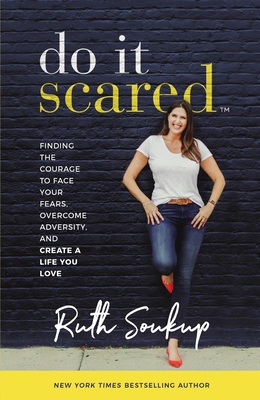 List Price: $25.99
Our Price: $22.09
(Save: $3.90 15%)
Staff Reviews
---
Store owner Mike Russo also teaches Small Business Entrepreneurship for KHSD. He enthusiastically recommends this title for those interested in the entrepreneurial mindset.
— From
The Small Business Celebration Bookstore
Description
---
Equal parts encouragement and tough love, Do It Scared combines easy-to-implement tips with the motivation to help you stare down your fears and start making real changes that lead to big results.
What would you do if fear no longer stood in your way? What would happen if you were no longer afraid to dive in headfirst and go after your dreams instead of sitting on the sidelines of your own life?
We tell ourselves we're too busy to pursue our dreams, but what if the real reason we're putting off our goals is fear? It's the fear that we're not good, smart, talented, or capable enough. It's the fear that others might laugh at us or that we'll get hurt or be rejected. It's the fear that pursuing our true potential will simply be too hard. And most of all, it's the fear that we'll fail.
But having courage doesn't mean we're never afraid. True courage means taking action despite fear. True courage means doing it scared.
The question is--how? How do we face those fears and take that first step in the right direction? How do we overcome the obstacles that stand in our way and sometimes feel insurmountable?
In Do It Scared, popular blogger and podcast host Ruth Soukup will help you:
Identify your own unique Fear Archetype(TM)--the specific type of fear that keeps you stuck--and learn how to conquer it
Dare to start thinking bigger about your life and your goals
Learn how to seek out honest feedback to accomplish big things
Embrace the core beliefs you need to overcome different types of fears
Discover why our magical idea of "balance" is totally overrated
Let go of the guilt once and for all
Get ready to get off the sidelines and jump into your own life as you dare to Do It Scared.
Praise for Do It Scared:
"If you're tired of playing small and are ready to embrace your future, Ruth Soukup offers the actionable steps you need to get started. Do It Scared is a practical guide to identifying your limiting beliefs, overcoming your fears, and creating the life you've dreamed of."
--Michael Hyatt, New York Times bestselling author