Married to Distraction: How to Restore Intimacy and Strengthen Your Partnership in an Age of Interruption (Paperback)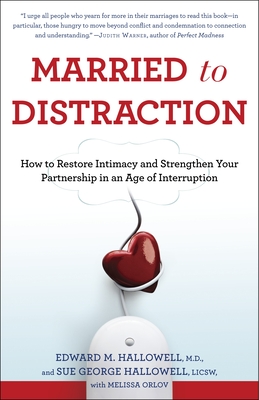 $18.70
Email or call for price.
Description
---
Are you more distant from your spouse than you'd like to be? Do you or your spouse waste time mindlessly viewing email or surfing the Web? Welcome to the club! Modern marriage is busy, distracted, and overloaded to extremes, with ever-increasing lists of things to do, superficial electronic connections, and interrupted moments. The good news is that there are straightforward and effective ways to restore communication and connection, resurrect happiness and romance, and strengthen—even save—a marriage.
 
• Observe the natural sequence of sustaining love: attention, time, connection, and play.
• Develop and nurture empathy—the essential building block to healthy communication.
• Carve out small moments of uninterrupted attention for each other.
• Identify the pressures that our crazybusy lifestyles put on love and marriage, and fight back with tenderness and appreciation.

Complete with scripts, tips, communication techniques, and a detailed 30-day reconnection plan, as well as inspiring real-life stories, Married to Distraction will set couples on a course of understanding, healing, and love.
About the Author
---
Edward M. Hallowell, M.D., was an instructor at Harvard Medical School for twenty years and is now the director of the Hallowell Centers in Seattle, San Francisco, New York City, and the Boston area. He is the co-author of Driven to Distraction, Delivered from Distraction, and Answers to Distraction, as well as the author of CrazyBusy, The Childhood Roots of Adult Happiness, and Worry, among other titles. He also hosts a weekly podcast called Distraction that offers practical solutions on how to focus and regain control in today's digital world.
 
Sue George Hallowell, LICSW, has been a practicing couples' therapist for more than twenty-five years. The Hallowells are the parents of three teenage children. They live in Arlington, Massachusetts.
Praise For…
---
"I urge all people who yearn for more in their marriages to read this book—in particular, those hungry to move beyond conflict and condemnation to connection and understanding."—Judith Warner, author of Perfect Madness

"Wise and compassionate . . . This is a unique, engaging, and profoundly helpful book. It can save a marriage or simply help people in happy marriages get closer and feel more fulfilled."—Suzy Welch, author of 10-10-10: A Life-Transforming Idea

"This timely book could save your marriage." —Maggie Jackson, author of Distracted: The Erosion of Attention and the Coming Dark Age
 
"Clear-sighted wisdom . . . Those in search of practical, concrete advice for creating and saving marriages will find what they need."—Publishers Weekly (starred review)