The Best Place to Work: The Art and Science of Creating an Extraordinary Workplace (Paperback)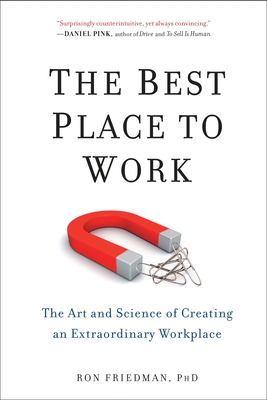 List Price: $18.00
Our Price: $15.30
(Save: $2.70 15%)
Staff Reviews
---
Recommended by Mike DeSchutter (Cal State Communications) on Small Business Celebration episode 47.
---
— From
The Small Business Celebration Bookstore
Description
---
Now in paperback: A groundbreaking, practical guide for fueling workplace happiness, creativity, and success based on the latest research from the behavioral sciences.

For readers of Malcolm Gladwell, Daniel Pink, and Stephen Dubner, a captivating and surprising journey through the science of workplace excellence.

Why do successful companies reward failure? What can casinos teach us about building a happy workplace? How do you design an office that enhances both attention to detail and creativity?

In The Best Place to Work, award-winning psychologist Ron Friedman, Ph.D., uses the latest research from the fields of motivation, creativity, behavioral economics, neuroscience, and management to reveal what really makes us successful at work. Combining powerful stories with cutting-edge findings, Friedman shows leaders at every level how they can promote smarter thinking, greater innovation, and stronger performance.

Among the many surprising insights, Friedman explains how learning to think like a hostage negotiator can help you defuse a workplace argument, why placing a fish bowl near your desk can elevate your thinking, and how incorporating strategic distractions into your schedule can help you make smarter decisions. The book introduces the inventor who created the cubicle, the president who brought down the world's most dangerous criminal, and the teenager who single-handedly transformed professional tennis--vivid stories that offer unexpected revelations on achieving workplace excellence.

The Best Place to Work offers employees and executives alike game-changing advice for working smarter and turning any organization--regardless of its size, budget, or ambitions--into an extraordinary workplace.
About the Author
---
Ron Friedman, Ph.D., is an award-winning psychologist who writes for the Harvard Business Review, Fast Company, Forbes, Entrepreneur, and CNN. He is the founder of ignite80, a consulting firm that helps smart leaders build thriving workplaces, and frequently delivers keynotes and trainings on the science of workplace excellence.
 
To learn more about his work, visit ignite80.com.


Praise For…
---
An INC. Magazine Best Business Book of the Year
 
"An excellent book." 
–Booklist
 
"A must-read"
–Library Journal (starred review)
 
"What a gem! Enough that it's a thorough, practical manual for optimizing relationships and work environments, based on new and solid research in human behavior—but it's a surprising, witty, well-written, and wonderfully engaging read."
–David Allen, author of Getting Things Done

"We've lost our way. In this stunning book, Ron Friedman helps us get back on track, exploring not only what work is for, but how we can leap forward and become more human, more alive and more effective."
–Seth Godin, author of Lynchpin and The Icarus Deception

"In The Best Place to Work, Ron Friedman examines the factors that take a company from ordinary to extraordinary. The stories in this book . . . pack powerful, research-based lessons for better leadership in the workplace. Friedman's findings are often surprisingly counterintuitive, yet always convincing."
–Daniel H. Pink, author of Drive and To Sell Is Human

"The Best Place to Work is an engaging journey through the latest science of improving the quality of life in organizations. Psychologist Ron Friedman examines how to unleash creativity, boost motivation, and offer rewards and recognition that bring people together rather than driving them apart."
–Adam Grant, Wharton professor and author of Originals and Give and Take

"A contemporary classic. Dr. Friedman's new book offers a highly original guide to creating exceptional workplaces based on cross-field academic research and superb examples from real companies. You won't find these insights elsewhere."
–Marshall Goldsmith, author of What Got You Here Won't Get You There            
 
"I love this book! It's smart, fun to read, interesting, clear, and practical. We're all owners of our workplaces, and this is our owner's manual. Following Ron's advice is easy and will pay huge dividends for you and the people with whom you work."
–Peter Bregman, author of 18 Minutes
 
"An eye-opening, highly-readable, and practical guide to improving the way we work. No matter what you do for a living, this book will change the way you see your workplace."
–Richard Wiseman, author of 59 Seconds: Think a Little Change a Lot 
 
"In The Best Place to Work, Ron Friedman brings together decades of psychological research into a package that offers organizations concrete advice to improve the well-being of workers and the quality of work. Much of the advice is eye-opening. I'm sure the results of taking the advice will be too."
–Barry Schwartz, author of The Paradox of Choice and Why We Work
 
"This fascinating book shows how to create workspaces that foster creativity, collaboration, and high productivity. It's a joy to read, filled with practical advice for leaders, engaging real-world stories, and grounded in scientific research."
–Keith Sawyer, author of Group Genius and Zig Zag: The Surprising Path to Greater Creativity 
 
"Friedman's book fills you with optimism about the future of work. If enough managers pay attention to the science he is promoting, then a lot of people are going to roll out of bed on Mondays truly eager to get to the other side of their commutes."
–David McRaney, author of You Are Not So Smart
 
"When it comes to motivation and engagement, the problem is rarely that the work itself is terrible – it's that the way we are working is. In The Best Place to Work, Ron Friedman tells you everything – and I mean everything – you need to know to bring out the best in your employees.  This powerful (and entertaining!) book is a guide to understanding how subtle, often unconscious influences in the workplace affect happiness, creativity, productivity and loyalty – and how you can use these insights to create real and lasting impact, on your team and in your organization. Everyone should be reading this book."
–Heidi Grant Halvorson, author of 9 Things Successful People Do Differently
 
"If you want to attract and keep exceptional employees, your culture is the key. In this entertaining book, Ron Friedman offers a practical game plan for building a workplace that thrives."
–Todd Henry, author of The Accidental Creative and Die Empty
 
"There's an astonishing gap between what science knows about human behavior and what companies think they know. In this fascinating book, Ron Friedman outlines the science behind thriving at work and offers practical advice for managers who are committed to making a real difference in the workplace."
–David Burkus, author of Under New Management
 
"What a great relief to read a business book that is not just about how to be a better leader but about what makes work more fun, exciting and productive. By focusing on what managers at all levels of an organization can do, this book provides a rich inventory of practical, research-based ideas for making work engaging. A most valuable and entertaining read full of powerful insights that should be read by every manager and employee."
–Edgar H. Schein, Professor Emeritus Sloan School of Management, MIT 
 
"Ron Friedman's The Best Place to Work presents the latest scientific findings in a highly entertaining but rigorous way. An excellent example of great science writing for practical application in the real world. If you want to make the workplace better, this book is the best place to start."
–Dean Keith Simonton, PhD, Distinguished Professor of Psychology, University of California, Davis
 
"The Best Place to Work flows seamlessly and is filled with practical, accessible ways of seeing not only oneself in depth, but also the complex mosaics of workplace environments with pitfalls and opportunities galore. The principles that undergird a fulfilling and healthy life, with room for authentic, creative play are infused into practical, real-life vignettes throughout its pages. Bringing the science of human innovativeness and productivity into focus, and combining these science-based truths with a life well lived are what can be gleaned from its chapters."
–Stuart Brown, M.D., author of Play: How it Shapes the Brain, Opens the Imagination, and Invigorates the Soul
 
"Ron Friedman bridges the gap between cutting-edge science and the reality of the modern workplace in a way that is clear, sensible, and effective. Friedman does more than offer recommendations – he provides empirically supported tools for turning most any office into a lively, engaging workplace. Written in a user-friendly style that will grab your attention, this book is a must-read for anyone who has wondered why workplaces can't be successful and welcoming at the same time."
–Harry Reis, PhD, University of Rochester Professor of Psychology, Past President of the Society for Personality and Social Psychology
 
"An energetic, conversational look at what really makes an office environment tick."
–Publishers Weekly
 
"Most readers will find some arresting ideas in this book...with a light and entertaining touch."
–Financial Times