Alpha Girls: The Women Upstarts Who Took On Silicon Valley's Male Culture and Made the Deals of a Lifetime (Hardcover)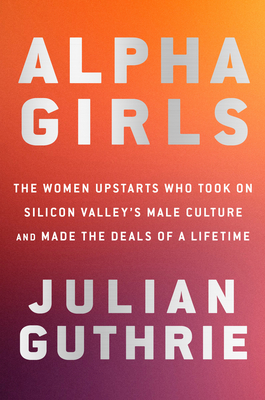 List Price: $28.00
Our Price: $23.80
(Save: $4.20 15%)
Staff Reviews
---
Store owner Mike Russo also teaches Small Business Entrepreneurship for KHSD. He enthusiastically recommends this title for those interested in the entrepreneurial mindset.
— From
The Small Business Celebration Bookstore
Description
---
An unforgettable story of four women who, through grit and ingenuity, became stars in the cutthroat, high-stakes, male dominated world of venture capital in Silicon Valley, and helped build some of the foremost companies of our time.

In Alpha Girls, award-winning journalist Julian Guthrie takes readers behind the closed doors of venture capital, an industry that transforms economies and shapes how we live. We follow the lives and careers of four women who were largely written out of history - until now.

Magdalena Yesil, who arrived in America from Turkey with $43 to her name, would go on to receive her electrical engineering degree from Stanford, found some of the first companies to commercialize internet access, and help Marc Benioff build Salesforce. Mary Jane Elmore went from the corn fields of Indiana to Stanford and on to the storied venture capital firm IVP - where she was one of the first women in the U.S. to make partner - only to be pulled back from the glass ceiling by expectations at home. Theresia Gouw, an overachieving first-generation Asian American from a working-class town, dominated the foosball tables at Brown (she would later reluctantly let Sergey Brin win to help Accel Partners court Google), before she helped land and build companies including Facebook, Trulia, Imperva, and ForeScout. Sonja Hoel, a Southerner who became the first woman investing partner at white-glove Menlo Ventures, invested in McAfee, Hotmail, Acme Packet, and F5 Networks. As her star was still rising at Menlo, a personal crisis would turn her into an activist overnight, inspiring her to found an all-women's investment group and a national nonprofit for girls.

These women, juggling work and family, shaped the tech landscape we know today while overcoming unequal pay, actual punches, betrayals, and the sexist attitudes prevalent in Silicon Valley and in male-dominated industries everywhere. Despite the setbacks, they would rise again to rewrite the rules for an industry they love. In Alpha Girls, Guthrie reveals their untold stories.
About the Author
---
Julian Guthrie spent twenty years writing for the San Francisco Chronicle, where she won numerous awards and had her writing nominated multiple times for the Pulitzer Prize. She is the author of three nonfiction books: The Grace of Everyday Saints, The Billionaire and the Mechanic, and How to Make a Spaceship. She lives in the San Francisco Bay Area.
Praise For…
---
"A revelatory, riveting journey into a part of Silicon Valley's history that has been overshadowed for far too long. Through vivid prose and artful story-telling, Julian Guthrie brings to life the nuanced tales of the struggles and successes of women in the technology industry."
–Ashlee Vance, bestselling author of Elon Musk
 
"Julian Guthrie is a mesmerizing storyteller, weaving the life stories of four dynamic women into a page-turning yarn. We don't just read of but feel the outrageous and often clueless male slights and insults, the double standards and blatant sexism endured by women in the blustery, male-dominated world of Silicon Valley. Yet Alpha Girls leaves you awed by their resilience and their professional feats. A stirring tale of triumph."
–Ken Auletta, acclaimed author and New Yorker staff writer
 
"An extremely important addition to the literary canon of Silicon Valley, told through the honest and specific stories of a handful of individual women. Beautifully done."
–Po Bronson, #1 New York Times best-selling author of What Should I Do with My Life?
 
"The women of Alpha Girls had to grow some thick skin to survive and succeed. And succeed they did. Alpha Girls will reshape how you look at women in finance. A must read for women and girls interested in changing the world."
–Sallie Krawcheck, CEO and Co-Founder of Ellevest 
 
"The story of four women who entered the tech industry to follow their dreams and managed through hard work and creativity to make those dreams come true. I'm glad Julian has written this book; we need to tell the success stories of women in tech."
–Reid Hoffman, co-founder of LinkedIn and investor at Greylock Partners
 
 "If you read one book about women in business, Alpha Girls should be the one. Julian Guthrie has written another dazzler." 
–Peter Diamandis, New York Times Bestselling Author, Founder and Executive Chairman of XPRIZE
 
"An intimate and addictive homage to the fearless female pioneers who made Silicon Valley blossom. Julian's vivid portrayals of once-hidden risk takers and mavericks will leave you heartbroken, hopeful, and hungering for more."
–Brian Keating, Professor of Physics UC San Diego, and Author of Losing the Nobel Prize 
 
"Finally, it's here: a book about Silicon Valley as seen through the accomplishments of the powerful women who, against all odds, made their mark there. Alpha Girls offers an inside look at the true meaning of grit and drive and upends the myth that it is only men who create and build tech companies. For any young woman in search of a role model, or any young man too, Alpha Girls is a must read."
–Caroline Paul, Author of The Gutsy Girl: Escapades for Your Life of Epic Adventure.
 
"Alpha Girls is about four women in a high-stakes, high-drama world. Each of these women's stories is gripping, treacherous, heroic and entertaining. They are being pulled out from behind the gender curtain and given their rightful place in contemporary history."  
–Cathy Schulman, President of Welle Entertainment, Academy Award winning producer, women's activist
 
"Julian Guthrie is the best author writing about Silicon Valley today, and Alpha Girls is the book that the world needs right now. It's the real story behind the largest legal creation of wealth in the history of the planet. If you are a woman who works, or simply work with women, Alpha Girls is essential reading."
–Adam Fisher, Author of Valley of Genius: The Uncensored History of Silicon Valley
 
"Once I started reading Alpha Girls, I couldn't put it down. The story of these VC women trailblazers must be told, and Julian tells it brilliantly. The book stimulates reflections on how we must accelerate changes in ourselves, at home, and in the workplace."
–Judy Vredenburgh, President & CEO, Girls Inc.