Brothers at Bat: The True Story of an Amazing All-Brother Baseball Team (Hardcover)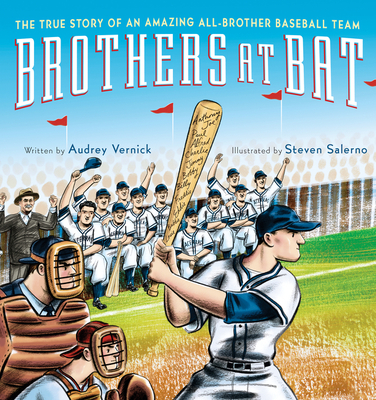 List Price: $18.99
Our Price: $16.14
(Save: $2.85 15%)
Usually Ships in 1-5 Days
Description
---
The Acerra family had sixteen children, including twelve ball-playing boys. It was the
1930s, and many families had lots of kids. But only one had enough to field a baseball
team . . . with three on the bench! The Acerras were the longest-playing all-brother
team in baseball history. They loved the game, but more important, they cared for
and supported each other and stayed together as a team. Nothing life threw their way
could stop them.

Full of action, drama, and excitement, this never-before-told true story is vividly
brought to life by Audrey Vernick's expert storytelling and Steven Salerno's stunning
vintage-style art.
About the Author
---
Audrey Vernick is author of several novels and many picture books, including Brothers at Bat: The True Story of an Amazing All-Brother Baseball Team. She lives with her family near the ocean in New Jersey. Visit her online at audreyvernick.com and on Twitter @yourbuffalo.
Steven Salerno has illustrated many popular picture books for children, including Brothers at Bat and The Fantastic Ferris Wheel (Holt). A graduate of Parsons School of Design, where he studied under famed author/illustrator Maurice Sendak, Steven's illustrations appear in the New York Times as well as magazines, advertising campaigns, product packaging, and retail interiors. He lives and works in New York City. www.stevensalerno.com
Praise For…
---
"I was lucky to play in the big leagues with my brother as a teammate and my dad as our manager. It was a very special time. The story of the Acerra brothers brought those memories back. It is a wonderful illustration of what a great game baseball is and how it brings families together on many different levels. Brothers at Bat is a story any baseball fan will enjoy and one that we all should know."--Hall of Famer Cal Ripken, Jr.
"A captivating story, impeccable layout, and glorious illustrations make this historical account an unqualified winner." --New York Times Book Review
"With a sense of humor, Audrey Vernick tells the true-life story of the 12 Acerra boys of Long Branch, NJ, who formed a team coached by their dad." --USA Today
"A remarkable story." --Wall Street Journal
"A lively story about family loyalty and love of the game, pulled from the sidelines of baseball history." --Publishers Weekly, *starred review*
"A delight not to miss." --School Library Journal, *starred review*
"[A] story of brotherly--and baseball--love." --Booklist, *starred review*
"Vernick's wry and rousing narration is perfectly matched by Salerno's mixed-media pictures."--The Bulletin of the Center for Children's Books, *starred review*
"Employing descriptive, conversational language in a matter-of-fact tone that doesn't sentimentalize, Vernick tells of a remarkable family . . . Salerno's lively drawings, rendered in black crayon, gouache, watercolor and pastel with digital color added, complement the action, striking a balance between detail and expansiveness.A family's love and devotion to each other and to the game of baseball, depicted lovingly." --Kirkus Reviews
"This story of a real American family whose bond was the game is brought to vivid life through illustrations." --Horn Book Magazine
"For those who love baseball, history and family stories, this book hits a home run."--Shelf Awareness, *starred review*
"Striking black crayon, gouache and watercolor paintings enhanced with digital color provide a solid backup to the tightly written narrative. A very pleasing slice of American history." --Cleveland Plain Dealer
A NewYork Times Notable Book for 2012
A 2012 Booklist Editor's Choice