King of Cheer: Stories of Showing Up, Getting Up, and Never Giving Up from the World's Most Electrifying Crowd Ignitor (Paperback)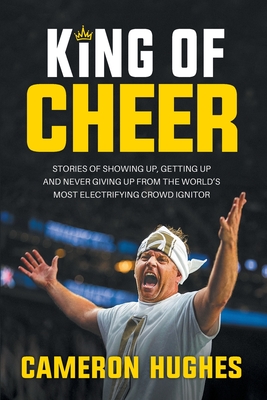 $17.99

Usually Ships in 1-5 Days
Description
---
We've all seen him. The wild dancing guy throwing shirts at major sporting events from the Olympics to the NBA Finals. And we've all wondered..."Who IS that guy?" THAT guy is...Cameron Hughes. And yes...THAT is his job.
For over 26 years, Cameron Hughes has ignited crowds at sporting events across the globe. The only professional sports entertainer of his kind in the world, Cameron has performed at over 1,500 events including 2 Olympic Games, 5 NBA Finals, 2 Stanley Cup Finals, and the US Open tennis tournament. His relentless optimism, infectious cheering, and unbridled dancing have delighted and energized unsuspecting crowds, infusing Cameron's indelible spirit in over 30 million people's memory banks - often without anyone even knowing who the man with the famous dance moves really is. So now, for the first time ever, Cameron is letting everyone in on his big secret - how he became the world's first professional fan.
His new memoir KING OF CHEER is an inspiring story of perseverance and self-belief that recounts how he took his genuine love for people and turned it into the most unlikely of careers. Starting from humble roots in Ottawa, Canada, this is the once-in-a-lifetime collection of his best stories from a love-able underdog who couldn't make his high school basketball team but would eventually rub shoulders with the titans of sport on the world's biggest stages.
Cameron has showcased his engaging style of bringing people together during memorable interactions with the likes of Steve Nash, Roger Federer, Novak Djokovic, Connor McDavid, Wayne, and Janet Gretzky, Michael Andretti, Katie Couric, Alanis Morissette, Trevor Noah, Russell Peters, Prince, a Supertrooper, and even a few Prime Ministers. He ignites a spark in everyone he meets, creating great stories that are ready to share.
Although Cameron specializes in helping people laugh and let go, the heart of his story is equally about taking risks, challenging social conventions, seeking peak performance, and contributing to a greater purpose. His unorthodox method of connecting and inspiring crowds have been put into action not only at the world's highest-profile sporting events but also at corporate events for some of the world's most renowned companies, and in philanthropic service to those in need.
Behind the KING OF CHEER is also a uniquely human story, as Cameron recounts the highs and lows of his improbable journey. From his lifelong struggles with ADHD to difficult family challenges in high school - a moment that would shape the rest of his life - KING OF CHEER is a transcendent celebration of the human spirit.
In Cameron's own words, "I hope my story will inspire you to cheer a little louder, smile a little wider, dance a little crazier, contribute to your team, be fearless, and most importantly, to GET UP and become your own biggest fan. I'm thrilled to take you on my journey and show you the true power of cheer."