Local Color (Paperback)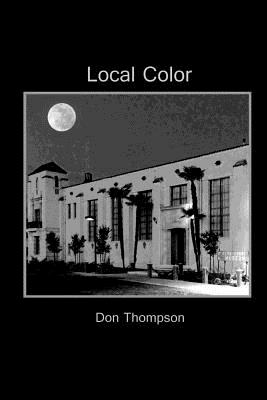 $19.80

Usually Ships in 1-5 Days
Staff Reviews
---
"If there was an official poet laureate of the West, Don Thompson would be
my choice. For four decades he has reminded us what it means to be
alive out here, coping with a world we do not fully understand. In
Local Color, he employs an original format to present, as usual,
wonderful word-pictures. Also as usual, "place" is a character in his
work, but not just any place: the south San Joaquin with all its
peculiarities and wonders. No writer has seen more there or told more
telling tales as a result. This is narrative poetry that really
narrates!"
—Gerald Haslam, author of Straight White Male and Leon Patterson: a California Story
LOCAL COLORS is a 154 page "narrative prose" which tells the story of a KC
County Museum night watchman reflecting back on his life and the
community he grew up in. Local references abound (Thompson is a master
of "place") and the book concludes with 31 pages of notes detailing the
author's exhaustive research, including little known local historical
facts.  -Mike Russo, Russo's Books
Description
---
If there was an official poet laureate of the West, Don Thompson would be my choice. For four decades he has reminded us what it means to be alive out here, coping with a world we do not fully understand. In Local Color, he employs an original format to present, as usual, wonderful word-pictures. Also as usual, "place" is a character in his work, but not just any place: the south San Joaquin with all its peculiarities and wonders. No writer has seen more there or told more telling tales as a result. This is narrative poetry that really narrates
-Gerald Haslam, author of Straight White Male and Leon Patterson: a California Story.
About the Author
---
Like both the night watchman and the editor, the two voices of Local Color, Don Thompson is a native of Bakersfield, California, and has lived in the southern San Joaquin Valley for most of his life. He began publishing poetry in the early sixties, producing a number of books and chapbooks over the years. Back Roads: A Journal won the 2008 Sunken Garden Poetry Prize. Most of his work interacts with the landscape of the Valley, but in Local Color he turns to the history of the region, to the people as well as the place. Thompson and his wife, Chris, live on her family's farm-land once owned by Miller and Lux, who reclaimed it, and before that, of course, by the Yokut, who hunted and fished the original wetlands.