Keeping the Love You Find (Paperback)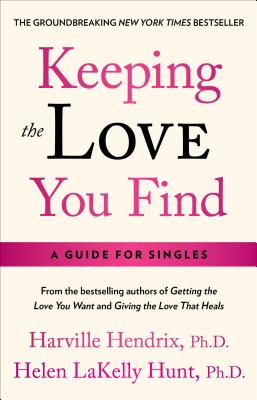 List Price: $18.00
Our Price: $15.30
(Save: $2.70 15%)
Usually Ships in 1-5 Days
Description
---
In Keeping the Love You Find, renowned relationship therapists and New York Times bestselling authors, Harville Hendrix Ph.D. and Helen LaKelly Hunt Ph.D., will help guide you on the single life.

Filled with wisdom and compassion, Keeping the Love You Find will help get your next relationship off to the best start and keep your love strong for a lifetime!
About the Author
---
Harville Hendrix, Ph.D., a clinical pastoral counselor and co-creator of Imago Relationship Therapy, has more than thirty-five years' experience as an educator, public lecturer, and couples' therapist.
Praise For…
---
"To build a great love, you both have to leap into self-discovery...Dr. Hendrix has helped thousands of couples hand in there together." -- T. George Harris, founding editor, American Health and Psychology Today
— T. George Harris

"To build a great love, you both have to leap into self-discovery...Dr. Hendrix has helped thousands of couples hand in there together." -- T. George Harris, founding editor, American Health and Psychology Today
— T. George Harris

"To build a great love, you both have to leap into self-discovery...Dr. Hendrix has helped thousands of couples hand in there together." -- T. George Harris, founding editor, American Health and Psychology Today
— T. George Harris

"To build a great love, you both have to leap into self-discovery...Dr. Hendrix has helped thousands of couples hand in there together." -- T. George Harris, founding editor, American Health and Psychology Today
— T. George Harris

"To build a great love, you both have to leap into self-discovery...Dr. Hendrix has helped thousands of couples hand in there together." -- T. George Harris, founding editor, American Health and Psychology Today
— T. George Harris

"To build a great love, you both have to leap into self-discovery...Dr. Hendrix has helped thousands of couples hand in there together." -- T. George Harris, founding editor, American Health and Psychology Today
— T. George Harris

"To build a great love, you both have to leap into self-discovery...Dr. Hendrix has helped thousands of couples hand in there together." -- T. George Harris, founding editor, American Health and Psychology Today
— T. George Harris

"To build a great love, you both have to leap into self-discovery...Dr. Hendrix has helped thousands of couples hand in there together." -- T. George Harris, founding editor, American Health and Psychology Today
— T. George Harris

"To build a great love, you both have to leap into self-discovery...Dr. Hendrix has helped thousands of couples hand in there together." -- T. George Harris, founding editor, American Health and Psychology Today
— T. George Harris

"To build a great love, you both have to leap into self-discovery...Dr. Hendrix has helped thousands of couples hand in there together." -- T. George Harris, founding editor, American Health and Psychology Today
— T. George Harris

"To build a great love, you both have to leap into self-discovery...Dr. Hendrix has helped thousands of couples hand in there together." -- T. George Harris, founding editor, American Health and Psychology Today
— T. George Harris

"To build a great love, you both have to leap into self-discovery...Dr. Hendrix has helped thousands of couples hand in there together." -- T. George Harris, founding editor, American Health and Psychology Today
— T. George Harris

"To build a great love, you both have to leap into self-discovery...Dr. Hendrix has helped thousands of couples hand in there together." -- T. George Harris, founding editor, American Health and Psychology Today
— T. George Harris

"To build a great love, you both have to leap into self-discovery...Dr. Hendrix has helped thousands of couples hand in there together." -- T. George Harris, founding editor, American Health and Psychology Today
— T. George Harris

"To build a great love, you both have to leap into self-discovery...Dr. Hendrix has helped thousands of couples hand in there together." -- T. George Harris, founding editor, American Health and Psychology Today
— T. George Harris

"To build a great love, you both have to leap into self-discovery...Dr. Hendrix has helped thousands of couples hand in there together." -- T. George Harris, founding editor, American Health and Psychology Today
— T. George Harris

"To build a great love, you both have to leap into self-discovery...Dr. Hendrix has helped thousands of couples hand in there together." -- T. George Harris, founding editor, American Health and Psychology Today
— T. George Harris