You Drive Me CRAZY (Paperback)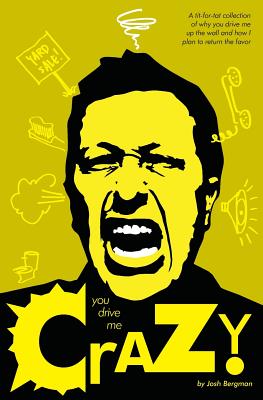 $13.19

Usually Ships in 1-5 Days
Description
---
If you live your life like a BRAVO SHOW...I'll live mine like SPIKE TV.

If you mention how great things were at YOUR LAST JOB one more time...I'll ask our boss if we can send you back there.

If you SNEEZE on my toothbrush...I'll fart in the bathroom WHILE YOU'RE SHOWERING.
Most recommended solutions to irritating situations include a combination of communication, compassion and compromise. That's what we're supposed to do, right? Compromise. With a little compassion. Well, this book takes the opposite approach by fanning the flames of frustration a little higher. Letting the wheels come off. Letting all hell break loose. Doesn't that seem like more fun sometimes? Complete with photos and illustrations of a rowdy groundhog, a tipsy Christmas ornament and a heap of pet peeves.
Critical Acclaim
"I accidentally used it as kindling for my fireplace. Worked well. Easy to tear. Flammable."
- Harold from Poughkeepsie
"This book drives me crazy."
- Carl from Sacramento
"Wait. Is this one of those dopey self-help books about how life is crazy and you can't take it anymore?"
- Suzy from Chattanooga
About the Author
---
Josh lives in Chicago with his cat (Wasabi Fred) with an affinity for bad TV and mindless internet videos. He hopes to coax his friends into playing more tennis since summer is here.