The Power of Habit: Why We Do What We Do in Life and Business (Paperback)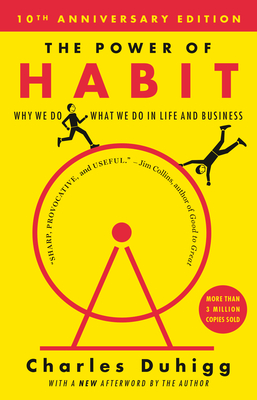 List Price: $18.00
Our Price: $15.30
(Save: $2.70 15%)
Usually Ships in 1-5 Days
Staff Reviews
---
Customer psychology and behavior has always fascinated me. Why do people
act or not act on certain information, buy or not buy particular items?
The question obviously intrigued NY
Times investigative reporter Charles Duhigg as well; the resulting answer to his curiosity is the bestselling book The
Power of Habit.
It is by understanding habits that Starbucks trains their employees to
give superior service. It also led Coach Tony Dungy to Super Bowl
success, allowed Proctor & Gamble to transform a dying product into a
billion dollar cash cow, and guided Paul O'Neill when re-energizing
Alcoa.
The Power of Habit works on several different levels:  it
is well researched (as 60+ pages of end-of-book notes will attest to),
entertainingly written (a bevy of captivating stories accompany the
latest findings on brain activity and human behavior), and, most of all,
readily applicable to both the reader's personal and business life.
— Mike Russo, Russo's Books
Store owner Mike Russo also teaches Small Business Entrepreneurship for KHSD. He enthusiastically recommends this title for those interested in the entrepreneurial mindset.
— From
The Small Business Celebration Bookstore
Description
---
NEW YORK TIMES BESTSELLER • This instant classic explores how we can change our lives by changing our habits.

NAMED ONE OF THE BEST BOOKS OF THE YEAR BY The Wall Street Journal • Financial Times

In The Power of Habit, award-winning business reporter Charles Duhigg takes us to the thrilling edge of scientific discoveries that explain why habits exist and how they can be changed. Distilling vast amounts of information into engrossing narratives that take us from the boardrooms of Procter & Gamble to the sidelines of the NFL to the front lines of the civil rights movement, Duhigg presents a whole new understanding of human nature and its potential. At its core, The Power of Habit contains an exhilarating argument: The key to exercising regularly, losing weight, being more productive, and achieving success is understanding how habits work. As Duhigg shows, by harnessing this new science, we can transform our businesses, our communities, and our lives.

With a new Afterword by the author
 
"Sharp, provocative, and useful."—Jim Collins
 
"Few [books] become essential manuals for business and living. The Power of Habit is an exception. Charles Duhigg not only explains how habits are formed but how to kick bad ones and hang on to the good."—Financial Times
 
"A flat-out great read."—David Allen, bestselling author of Getting Things Done: The Art of Stress-Free Productivity

"You'll never look at yourself, your organization, or your world quite the same way."—Daniel H. Pink, bestselling author of Drive and A Whole New Mind

"Entertaining . . . enjoyable . . . fascinating . . . a serious look at the science of habit formation and change."—The New York Times Book Review

About the Author
---
Charles Duhigg is a Pulitzer Prize–winning investigative journalist and the author of The Power of Habit and Smarter Faster Better. A graduate of Harvard Business School and Yale College, he is a winner of the National Academies of Sciences, National Journalism, and George Polk awards. He writes for The New Yorker, The New York Times Magazine, and other publications, and is the host of the podcast How To! with Charles Duhigg.
Praise For…
---
"Sharp, provocative, and useful."—Jim Collins

"Few [books] become essential manuals for business and living. The Power of Habit is an exception. Charles Duhigg not only explains how habits are formed but how to kick bad ones and hang on to the good."—Financial Times

"Entertaining . . . enjoyable . . . fascinating . . . a serious look at the science of habit formation and change."—The New York Times Book Review

"Cue: see cover. Routine: read book. Reward: fully comprehend the art of manipulation."—Bloomberg Businessweek

"A fresh examination of how routine behaviors take hold and whether they are susceptible to change . . . The stories that Duhigg has knitted together are all fascinating in their own right, but take on an added dimension when wedded to his examination of habits."— Associated Press

"There's been a lot of research over the past several years about how our habits shape us, and this work is beautifully described in the new book The Power of Habit."—David Brooks, The New York Times

"A first-rate book—based on an impressive mass of research, written in a lively style and providing just the right balance of intellectual seriousness with practical advice on how to break our bad habits."—The Economist

"I have been spinning like a top since reading The Power of Habit, New York Times journalist Charles Duhigg's fascinating best-seller about how people, businesses and organizations develop the positive routines that make them productive—and happy."—The Washington Post

"An absolutely fascinating . . . book [that explores] a startling and sometimes dismaying collision between the increasingly sophisticated scientific understanding of habits—how they're formed, how they can be disrupted and changed—and, among other things, companies' efforts to use that knowledge to steer your habits and money their way."—Wired

"If Duhigg is right about the nature of habits, which I think he is, then trying to get rid of these bad habits won't work. Instead, what is needed is to teach the managers to identify the cues that lead to these bad habits and rewards, and then learn alternative routines that lead to similar rewards, i.e. business and personal success."—Forbes

"The Power of Habit is chock-full of fascinating anecdotes . . . how an early twentieth century adman turned Pepsodent into the first bestselling toothpaste by creating the habit of brushing daily, how a team of marketing mavens at Procter & Gamble rescued Febreze from the scrapheap of failed products by recognizing that a fresh smell was a fine reward for a cleaning task, how Michael Phelps' coach instilled habits that made him an Olympic champion many times over, and how Tony Dungy turned the Indianapolis Colts into a Super Bowl–winning team."—Los Angeles Times