Who Owns the Ice House?: Eight Life Lessons from an Unlikely Entrepreneur (Paperback)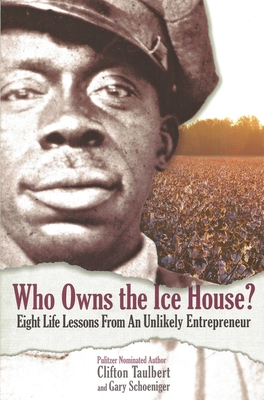 List Price: $15.95
Our Price: $13.56
(Save: $2.39 15%)
Usually Ships in 1-5 Days
Staff Reviews
---
Store owner Mike Russo also teaches Small Business Entrepreneurship for KHSD. He enthusiastically recommends this title for those interested in the entrepreneurial mindset.
— From
The Small Business Celebration Bookstore
Description
---
In the late 1950s, Glen Allan, Mississippi, was a poor cotton community. For many, it was a time and place where opportunities were limited by social and legal constraints that were beyond their control. It was a time and place where few dared to dream. Based on his own life experience, Pulitzer nominee Clifton Taulbert has teamed up with entrepreneur thought leader Gary Schoeniger to create a powerful and compelling story that captures the essence of an entrepreneurial mindset and the unlimited opportunities it can provide. Drawing on the entrepreneurial life lessons Taulbert learned from his Uncle Cleve, Who Owns the Ice house? chronicles Taulbert's journey from life in the Mississippi Delta at the height of legal segregation to being recognized by Time magazine as "one of our nation's most outstanding emerging entrepreneurs." Who Owns The Ice House? reaches into the past to remind us of the timeless and universal principles that can empower anyone to succeed.
About the Author
---
Gary G. Schoeniger is an emerging thought leader in the field of entrepreneurship education. He is the co-founder and CEO of The Entrepreneurial Learning Initiative (ELI), an organization dedicated to providing interactive real-world entrepreneurship education programs for individuals and organizations worldwide. Their clients include the Cisco Entrepreneur Initiative and the Ewing Marion Kauffman Foundation of Kansas City. Schoeniger lives in Cleveland, Ohio. Clifton L. Taulbert, a recognized thought leader on the power of community, is renowned for his ability to glean timeless lessons from the place of his birth, the Mississippi Delta. His first book, "Once upon a Time When We Were Colored" has been embraced globally as has his book, "Eight Habits of the Heart". Taulbert's "Last Train North" was nominated for the Pulitzer Prize and received the Doublday New Author of the Year award and the Mississippi Institute of Arts and Letters award for non-fiction. Taulbert lives in Tulsa, Oklahoma with his wife Barbara.