Fight: A Christian Case for Non-Violence (Paperback)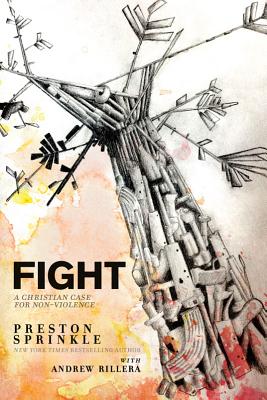 List Price: $16.99
Our Price: $14.44
(Save: $2.55 15%)
Usually Ships in 1-5 Days
Description
---
Fight explores violence in the Bible and challenges us to live out Jesus' call to non-violence. With prophetic relevance, New York Times bestselling author Preston Sprinkle tackles the controversy surrounding violence and grapples with surprising conclusions. Anyone who has struggled with the morality of violence will appreciate this convincing biblical guide.

About the Author
---
Preston Sprinkle is the New York Times bestselling co-author of Erasing Hell: What God Said About Eternity, and the Things We've Made Up. He has a Ph.D. in New Testament from Aberdeen University and currently teaches at Eternity Bible College in Simi Valley, California, where he lives with his wife and four kids.
Praise For…
---
"Considering the hostile and violent state of our world, Christians cannot afford to be ignorant on this issue.... Preston has taken the time to make a solid biblical argument. I highly recommend that every believer examine the truths in this book."

— Francis Chan
"In Fight ... Sprinkle offers a strikingly powerful, Christ-centered case for nonviolence as a way of life."

— Christianity Today
"This is a book that should be read by every evangelical small group in America. If the truths contained within its pages were to be absorbed, the face of culture in the USA would be transformed as Christians took their 'fight' to their knees instead of with violent words, weapons, and bumper stickers."

— Kurt Willems, Pangea Blog
"In a bold new book called Fight, evangelical pastor and bestselling author Preston Sprinkle sets out to answer these important questions as he makes a compelling case for nonviolence. Drawing from his expansive theological background, research, and countless interviews, Preston addresses questions such as how to reconcile what seems like a vengeful God of the Old Testament with the forgiving, nonviolent Christ of the New Testament; how American should defend herself against aggression; what Scripture teaches about Capital Punishment; and whether Christians should kill in self-defense."

— Patheos Book Club
"We need Preston Sprinkle's book because there are too many Christians who haven't given a moment's thought to their own violent use of our glorious Scripture's message of peace by approving and applauding the use of violence to accomplish peace. The contradictions at work are baffling. Bravo to Preston Sprinkle!"

— Scot McKnight
"Preston Sprinkle ... lays out a strong Biblical case that the God of Moses and Joshua is the same God incarnated in Jesus. This is a God who calls us to non-violence in our confrontations with evil and the agents of war. For those who take the Bible seriously this book will do much to move us beyond sentimental pacifism to a scriptural basis for non-violent resistances."

— Tony Campolo
"Those who read this book with an open mind will be forced to do what the author himself did: rethink what it means to be Christian, especially in the most militarily powerful nation on earth."

— Michael J. Gorman