Moving In: Tales of an Unlicensed Marriage (Paperback)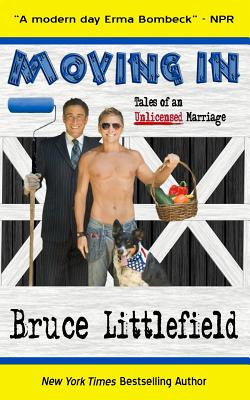 $14.25

Usually Ships in 1-5 Days
Description
---
NY Times best-selling author and lifestyle expert Bruce Littlefield's latest book is his most personal to date. This time he takes readers on a wild and often hysterical ride through the first year spent fixing up a historic old house with partner (and unwitting handyman) Scott Stewart, one of Manhattan's top real estate brokers.

At a time when marriage equality has become a political and social hot topic, MOVING IN: Tales of an Unlicensed Marriage is an expose on relationships and renovation. The story shows that, no matter same or opposite gender, there's one in every couple who likes to make things look pretty and one who'll walk across a newly cleaned kitchen floor in muddy shoes to see the results.

MOVING IN features the tale of Bruce and Scott's freshman year of happy homemaking, during which time they: learn how to operate a lawnmower and that they shouldn't; debate whether to go to the emergency room after their 1929 oven burns off Bruce's eyebrow; invite a fugitive over for a beer; and almost strangle each other with Christmas lights.

As they say, marriage is made in heaven, but then again, so is thunder, lightning, and hail. This book is fun from cover to cover and will definitely make you feel better about your own relationship. Grab yourself a glass of wine and settle in to your side of the bed for a good read. But be warned, you're about to be told to keep the laughter down.

THREE QUESTIONS FOR BRUCE

Q: SCOTT BOUGHT YOU A HOUSE. WHAT'S THE BEST PRESENT YOU'VE EVER GIVEN HIM?
A: The best gift I ever gave Scott was the week I lost my credit card and simultaneously got laryngitis.

Q: WHAT'S THE SECRET TO YOUR RELATIONSHIP'S SUCCESS?
A: We've never been out of love with each other at the same time. And we follow the sage advice of never going to bed angry. Of course, sometimes that means we don't sleep for two weeks straight.

Q: ARE THERE ANY KIDS IN YOUR FUTURE?
A: We've been trying, but I just can't seem to get pregnant.
About the Author
---
Bruce Littlefield has written books on a spectrum of American topics from garage sales to Airstreams to Christmas and has co-authored with many high-profile names including Shark Tank's Barbara Corcoran, Fox News's Lis Wiehl, and civil rights advocate Zach Wahls. He appears on the Today Show, The View, and the Early Show as a lifestyle expert. The New York Times calls him a "lifestyle authority." We all know that's just shorthand for a know-it-all housewife. He divides his time between New York City and Edgewater Farm, a former bungalow colony in the Catskills.