Black Privilege: Opportunity Comes to Those Who Create It (Hardcover)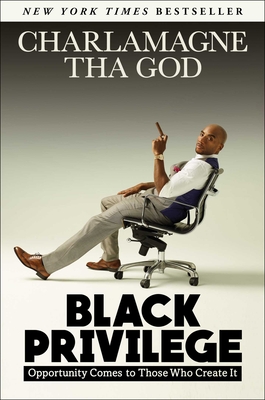 List Price: $28.99
Our Price: $24.64
(Save: $4.35 15%)
Usually Ships in 1-5 Days
Description
---
Instant New York Times Bestseller

Charlamagne Tha God—the self-proclaimed "Prince of Pissing People Off," co-host of Power 105.1's The Breakfast Club, and "hip-hop's Howard Stern"—shares his unlikely success story as well as how embracing one's truths is a fundamental key to success and happiness.

In his new book, Charlamagne Tha God presents his comic, often controversial, and always brutally honest insights on how living an authentic life is the quickest path to success. Beginning with his journey from the small town of Moncks Corner, South Carolina to his headline grabbing interviews with celebrities like Justin Bieber, Jay-Z, Nicki Minaj, Kanye West, and Hillary Clinton, he shares how he turned his troubled early life around by owning his (many) mistakes and refusing to give up on his dreams, even after his controversial opinions got him fired from several on-air jobs. Combining his own story with bold advice and his signature commitment to honesty at all costs, Charlamagne hopes this book will give others the confidence to live their own truths.
About the Author
---
Charlamagne Tha God is cohost of the nationally syndicated hip-hop iHeartRadio program The Breakfast Club and a television and media personality. He is also a social media influencer; an executive producer with his own production company, CThaGod World LLC; and cohost of the popular podcast Brilliant Idiots. Born and raised in a small town in South Carolina, Charlamagne quickly rose to become one of today's most unique and compelling media personalities. His point of view and provocative celebrity interviews help drive the daily national conversation about issues related to hip-hop, race, society, and politics. He is the author of the New York Times bestseller Black Privilege and Shook One.
Praise For…
---
"After meeting this young man I was impressed by his real desire to be relevant and his genuine yearning to leave meaningful footprints in the sand, this book is just that: a young man passing on relevant knowledge and experiences to help others better their position in life. Way to go young soldier, UNK is proud." --Steve Harvey

"Charlamagne thinks that just because he's wise about race stuff he can say whatever the f*ck he wants about women. That's now how it works dude. Nice try. And stop asking questions about my butt." --Lena Dunham

"Charlamagne is a great friend.....after you threaten to punch him in the face a few times." --La La Anthony

"South Carolina has produced some really beautiful, talented, smart, upstanding citizens…..and Charlamagne!" --Stephen Colbert

"Charlamagne is a f*cking asshole, but he's my favorite one." --Issa Rae