Catana Comics Little Moments of Love 2021 Deluxe Day-to-Day Calendar (Calendar)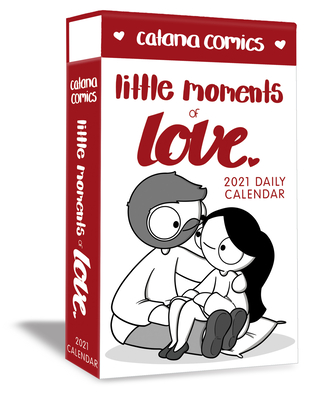 List Price: $18.99
Our Price: $16.14
(Save: $2.85 15%)
Description
---
This funny desk calendar showcases a daily cartoon depicting a little moment of love to remind couples of similar times of their own. Your girlfriend, boyfriend, wife, or husband will love it.
From Catana Chetwynd, today's most popular online relationship-comic artist, the calendar savors the simple joys of coupledom while simultaneously poking fun at silly relationship quirks. Whether in a new relationship or together for years, couples find these adorable comics extremely relatable, making them think, "OMG! That's just like us! 
Features Include:
Deluxe day-to-day format in upscale packaging
Sturdy hardcover wraps around to create an easel stand
Perforated pages rip off cleanly
Blank reverse pages––perfect for lists or scrawling a love note to your LOML
Official major world holidays
About the Author
---
Catana Chetwynd is a self-taught traditional artist and the enthusiastic author of Catana Comics. She grew up in Saratoga Springs, New York, where she spent her time creating art and pursuing an education in psychology until accidentally stumbling into the world of comics. Not only is her fiancé, John, the daily inspiration for her drawings, but he was also the one who suggested a comic series about their relationship in the first place. Thanks to his idea and his inspiring daily antics, Catana was able to pursue her childhood dream of being a cartoonist. She currently lives on the East Coast with John and their tiny, angry dog, Murph.