Caring for Your Cherished Objects: The Winterthur Guide (Paperback)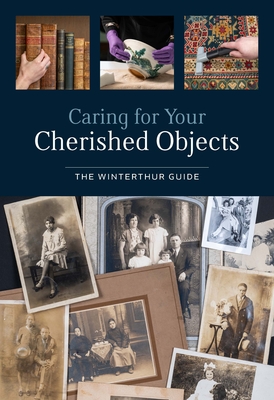 $29.94
Email or call for price.
Description
---
Cherished objects and family heirlooms hold a special place in our lives. Whether they are personal letters, grandmother's silverware, or the favorite stuffed animal from your childhood, these items all have significance and are part of your cultural heritage. Caring for Your Cherished Objects: The Winterthur Guide provides practical information about what you should and shouldn't do to prolong the life of your objects, including advice about proper storage and display. The book will help you to assess your possessions, understand which objects are most vulnerable, and avoid the situations that will put them at more risk. Illustrations demonstrate the kinds of problems you may see on your own items or warning signs that indicate that some sort of action--whether preventive, conservative, or restorative--is warranted. Learn the difference between those terms. Sidebars in each chapter address the science behind the whys and hows to caring for the wide range of specific kinds of objects covered--from ephemera, documents, books, works of art on paper, photographs, and organic objects to textiles, ceramics, glass, metal objects, furniture, and frames. Included are the procedures that can be safely done by an owner as well as those that require the services of conservation professionals. So that you aren't left to wander the Internet, a Resources section provides a list of reliable professional organizations as well as suggested readings, websites, and lists of suppliers to aid you in caring for your cherished objects. The authors of Caring for Your Cherished Objects are highly trained, experienced experts who have cared for thousands of precious objects and have a passion for the topic. In addition to caring for the collection at Winterthur Museum, Garden & Library, they teach, consult, and lecture on the care of cultural heritage to students, professionals, and the public.
About the Author
---
The Winterthur Museum and Country Estate is home to the world's premier collection of early American decorative arts, a matchless twentieth-century naturalistic garden, and a world-renowned research library. The Winterthur estate is the former home of Henry Francis du Pont. The highly trained conservation professionals at Winterthur work in one of the finest laboratory and research facilities in the United States. Their commitment to the preservation and conservation of art and historical works extends to teaching in an internationally recognized conservation program jointly sponsored by the Winterthur and the University of Delaware. Begun in 1974, the Master's degree program in Art Conservation is one of only four such programs in the country.