All Pets Go to Heaven: The Spiritual Lives of the Animals We Love (CD-Audio)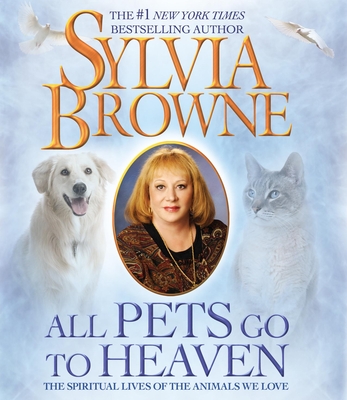 List Price: $26.95
Our Price: $22.91
(Save: $4.04 15%)
Usually Ships in 1-5 Days
Description
---
America's leading psychic shares heartwarming, tear-jerking tales about the role of our beloved pets on the Other Side.

It's said that pets don't have souls. World-famous spiritual guide and psychic Sylvia Browne knows better. Drawing on 40 years of research and stories, she explains how animals "live" after death on the Other Side. She also reveals how animals fit into creation, the purpose of pets in our lives, how we will see our deceased pets in the afterlife, and how living animals see spirits.

Pets have personalities, habits, and quirks. They exhibit never-ending loyalty and comic behavior, and they are capable of heroic deeds. We need no longer fear that we will never see them again after death. Featuring moving tales about pets across the country and around the world, All Pets Go to Heaven reassures animal lovers that pets do, indeed, have souls.
About the Author
---
SYLVIA BROWNE is the #1 New York Times bestselling author of The Two Marys, Psychic Children, The Mystical Life of Jesus, Insight, Phenomenon, and other bestsellers. She has been working as a psychic for five decades and appears regularly on The Montel Williams Show. She has also appeared on Larry King Live, Good Morning America, CNN, and Entertainment Tonight. She lives in California and works alongside her son, Chris, who has inherited his mother's psychic abilities.
JEANIE HACKETT has played lead roles on Broadway and has worked extensively off-Broadway and in major regional theaters. TV credits include The West Wing, NYPD Blue, Judging Amy, Boston Public, Chicago Hope, and many others. She is the co-artistic director of L.A.'s Antaeus Company, and has written two books on acting.