The End of Jobs: Money, Meaning and Freedom Without the 9-to-5 (Paperback)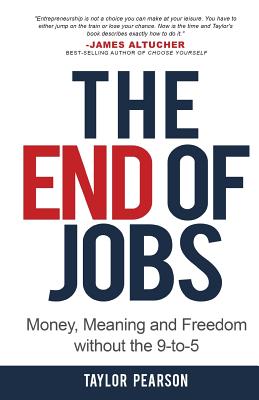 List Price: $14.99
Our Price: $12.74
(Save: $2.25 15%)
Usually Ships in 1-5 Days
Staff Reviews
---
Store owner Mike Russo also teaches Small Business Entrepreneurship for KHSD. He enthusiastically recommends this title for those interested in the entrepreneurial mindset.
— From
The Small Business Celebration Bookstore
Description
---
#1 Amazon Bestseller in Business and Money, Small Business, Entrepreneurship, and International Economics
A Top 3 'Start Your Own Business' Book -Inc Magazine
The rapid development of technology and globalization has changed the leverage points in accumulating wealth: money, meaning and freedom. Those that don't adapt are becoming trapped in the downward spiral of a dying middle class - working harder and earning less. Entrepreneurs that understand the new paradigm, have created unprecedented wealth in their lives and the lives of those they love.
In This Book You'll Learn:
-- Why the century-long growth in wages came to a halt in 2000.
-- Why MBAs and JDs can't get jobs and what that means for the future of work and your job.
-- Why The Theory of Constraints and a shift into the Fourth Economy has made entrepreneurship the highest-leveraged career path for the young and ambitious.
-- Why The Turkey Problem means accounting may be the riskiest profession in the 21st century while entrepreneurship may be the safest.
-- How entrepreneurs with second-rate degrees are leveraging the radical democracy of the Long Tail to get rich.
-- How the Stair Step Method and return of apprenticeships have transformed the "entrepreneurial leap" to make entrepreneurship at large, and small business entrepreneurship in particular, more accessible than ever.
-- The scientific research on how giving up balanced living and embracing integrated living leads to more money, more meaning, and more freedom.
-- Why a 20th century world view to career search questions like "What career is right for me?" and "How do I find a career?" could be the source of your frustration (and a better way to think about it)
Included (Free) Resources:
Get access by visiting http: //taylorpearson.me/eoj
-- Full Recorded Interviews with the Ten Entrepreneurs featured in The End of Jobs detailing how they launched their own successful businesses.
-- Taylor's 67 must-read business books and the best entrepreneur books to fuel your entrepreneurial career.
-- 49 tools and templates to save you hundreds of hours when launching and growing a business.
-- A Ninety-Day goal setting template to translate the book into actionable steps
-- Access to a private community to discuss the book and get support from a community of like-minded individuals to inspire, motivate, and assist each other in seeking out apprenticeships, your career search and other elements around "how to find a career" and other career guidance questions like "what career is right for me