The World's Greatest Collection of Dad Jokes: More Than 500 of the Punniest Jokes Dads Love to Tell (Paperback)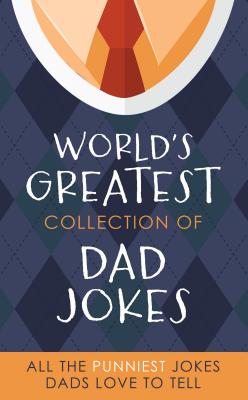 $5.49
Email or call for price.
Description
---
Here is a brand-new collection of more than 500 of the very best dad jokes. Jokes are organized in topics—Silly Kids, Action/Reaction, All Puns All the Time, Love & Marriage, One-Liners, Faith—so dads (and fans of dad jokes) can find the perfect rib-tickler (groaner) for every occasion. Also included are a dozen Bible verses to provide a bit of faith-based wisdom along with these clean, albeit definitely Dad, jokes.
 
About the Author
---
Barbour Publishing is a leading Christian book publisher offering bestselling books featuring exceptional value, biblical encouragement, and the highest quality. Barbour is the home of New York Times Bestselling author Wanda E. Brunstetter along with well-known fiction authors Gilbert Morris, Olivia Newport, Michelle Griep and many others. If your interest is Christian Living or Bible Reference, you'll find excellent titles by bestselling authors Josh McDowell, Jonathan McKee, Debora Coty, and Stephen M. Miller's The Complete Guide to the Bible.   Barbour also publishes the top classic devotionals God Calling by A.J. Russell, and Come Away My Beloved by Frances J. Roberts. With inspirational Christian books available in all genres--fiction for adults and children, Bible Promise books, devotionals, Bibles, Bible reference, puzzle books, and gift books there's something for everyone to enjoy.