Everything Barren Will Be Blessed (Paperback)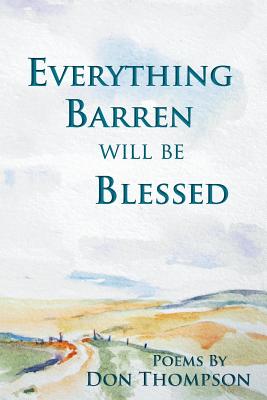 $17.25

Usually Ships in 1-5 Days
Staff Reviews
---
Regionally and nationally recognized, Thompson's poetry speaks to the
very landscape from which he harkens. The Buttonwillow resident released
Everything Barren Will Be Blessed in 2012.
As the titles of his poems suggest – "Tumbleweeds", "Hawk", "Almond
Grove"," Bear Mountain After Rain", "When the Drought Ended" – his poems
are borne of our soil. From his poem "Seed":
The summer grass looks frail,


old and so brittle


you'd think the wind would snap it.


But no. It gets back up again


after every gust,


much quicker than we do…

Thompson easily captures the spirit of the Southern San Joaquin Valley's
simplicity and its vastness. The harsh summer sun, scampering wildlife,
overgrown fields, and our co-existence with each of them are central to
his work. Even readers not familiar with poetry will recognize
Thompson's reverence for our shared experiences and all will certainly
feel at home with his remarkable talent.
— Mike Russo, Russo's Books
Description
---
In Everything Barren will be Blessed the images are immediate and memorable, of hot Southern California valleys and desert populated with wild and civilized life-coyotes, hawks, egrets, pistachio and almond groves, humans: "Crows never make excuses, / unlike us-but like us / complain bitterly about their blessings." These poems remind us of the significance of water, the importance of our relationship with nature, and our mortality: "the way we watch a stranger go by, / wonder where he's going, if anywhere, / and forget him as soon as he's gone." Our isolation and our coexistence with nature must be inevitable: "An old coyote alone in the fog, / somehow lost where he lives, / looking over his shoulder / in a way we all recognize," Don Thompson's poems coalesce into a "collective voice for the San Joaquin Valley of California" (Allan M. Jalon, in the LA TIMES). His lifelong immersion in agricultural landscape is as clear as the water and stone in Preacher Valley: "Everything we need to know / has been written in unhurried longhand / between the hills and the sky. / You can trace it with your finger.